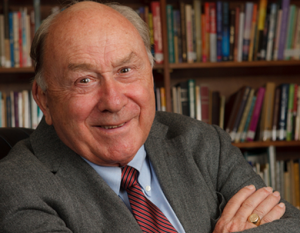 The Woodlands, TX – Dr. Elmer Towns, co-founder and Vice President of Liberty University and a best-selling author, will be teaching an intensive course on evangelism on August 10-13, 2015, at Grace School of Theology.
The course, entitled Spiritual Factors of Ministry, is an introductory study in evangelism. It is based on a study of the biblical and theological understanding of what it takes to minister in and through a local church and in para-church ministries.
"Recognizing that students come from various church backgrounds, this course is designed to build on the student's religious background. It will represent the philosophy, principles, and spirit of evangelism that is needed for ministry," says Dr. Towns.
Dr. Towns has been a seminary professor for over 50 years and has been in the leadership of several educational institutions. He has given lectures and taught intensive seminars at over 50 theological seminaries in America and abroad, focusing on principles of church growth, church leadership, and Christian education.
With a heart for evangelism and discipleship, he has dedicated his life to developing resources for theological education and Christian ministry. He has become a leading figure in Christian education, having published over 2000 reference articles and over 100 books, 7 of which have become bestsellers and others becoming accepted as college textbooks.
"Dr. Towns is unquestionably a prolific author and teacher, but we are most excited about his incredible expertise in church growth and ministry," says Dr. Albert Letting, Vice President of Academic Affairs at Grace School of Theology. "It is a privilege to have him at our World Headquarters to teach and invest in our students during this special intensive course."
Classes will be held Monday through Thursday from 6:00-10:00 p.m. at Grace School of Theology World Headquarters located at 3705 College Park Drive, The Woodlands, Texas 77384.
To register for the course, visit gsot.edu/register.