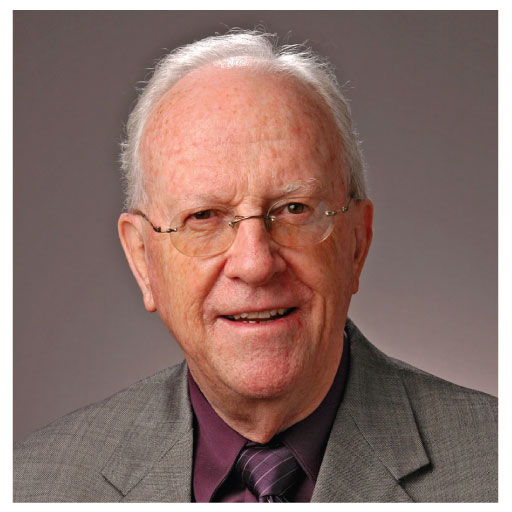 The Woodlands, TX – Renowned Bible scholar, professor and author Dr. Eugene Merrill will be teaching an intensive course on The Pentateuch on August 8-11, 2016, at Grace School of Theology.
For 38 years, Dr. Merrill taught at Dallas Theological Seminary until he retired in June 2013 as Distinguished Professor Emeritus of Old Testament Studies. He also serves as Distinguished Professor of Old Testament Interpretation at the Southern Baptist Theological Seminary in Louisville, KY. With degrees from Bob Jones University, New York University, and Columbia University, he currently lectures in the areas of Hebrew and Semitic languages, biblical backgrounds, and Old Testament theology. At present, he is involved in an archaeological excavation at Khirbet al-Maqatir, a possible site of biblical Ai.
An expert in the Old Testament, Dr. Merrill is the author of numerous publications, including An Historical Survey of the Old Testament  (Baker, 1966; 2nd edition, 1991); 1 & 2 Chronicles (Zondervan, 1988); Kingdom of Priests: A History of Old Testament Israel (Baker, 1987; 2nd edition, 2008); Haggai, Zechariah, Malachi (Moody, 1994; reprint Galaxie, 2003); Deuteronomy (Broadman & Holman, 1994); (with Charles Dyer) The Old Testament Explorer (Word, 2001); and Everlasting Dominion: A Theology of the Old Testament (Broadman & Holman, 2006).
He was an associate editor of the New International Dictionary of Old Testament Theology and Exegesis (Zondervan, 1997) and a co-author of The World and the Word: An Introduction to the Old Testament (with Mark F. Rooker and Michael A. Grisanti) (B&H, 2011). He currently serves as editor of a multi-volume theological word study of the Old Testament (Chariot-Victor) and the Old Testament editor for the forthcoming Berean Bible. He was a translator of the New King James Version and the New Living Translation, an editor of the Holman Christian Standard Bible, and a contributor to The Apologetics Study Bible and the Holman Christian Standard Bible Study Bible.
Dr. Merrill and his wife are members of First Baptist Church in Dallas, Texas, where he has served as a deacon and currently serves as an adult Sunday School teacher. He held the position of President of the Evangelical Theological Society (2009-2010) and just recently completed service on its Executive Committee.
"People must take advantage of this unique opportunity to learn from Dr. Merrill up close and in person. Undoubtedly, he is one of the most renowned Old Testament scholars in the world, but more importantly, he models what he teaches through his genuine care and love for his students in and outside the classroom," said Dr. Peter Oh, a former student of Dr. Merrill and the current Graduate Dean and Professor of Old Testament and Biblical Languages at Grace School of Theology.
Fall registration is available now until July 21. To register for Dr. Merrill's course, visit our Registration Page.