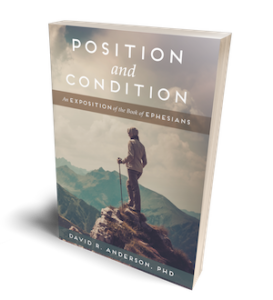 (Guest: Dr. Dave Anderson) What are the heavenly blessings we have been given and how do we conduct our lives accordingly? Today we continue our discussion with Dr. Dave Anderson about his book "Position and Condition" and what it means for believers in Jesus Christ to live in light of our spiritual blessings.
To find out more or to purchase Dr. Anderson's book on this topic entitled Position and Condition, visit gracetheology.org/bookstore/position-and-condition.
Questions:
We look forward to interacting with you and the opportunity to address your questions on the podcast. Email your questions to savinggrace[at]gsot.edu.
Stay Connected:
You can also reach out to us on Twitter @savinggracecast and like Grace School of Theology's Facebook page. These are great ways to stay up to date with news related to the podcast.
Podcast: Play in new window | Download
Subscribe: Apple Podcasts | Android | RSS