We know you're already in the trenches doing ministry, and we don't want you to put that kingdom work on hold. We want you to learn where you live so you can serve where you are. After all, you've got people counting on you, so you can count on us to provide the training you need to reach others with His grace. And we believe it's actually important for you to have a life along the way, so we've created a program timeline that you can pursue at a manageable pace. Stick with it, and you can earn a certificate within a year or a degree in two.
Plus, you won't find any ivory towers here. We have a team of professors with real-world ministry experience who teach theology you can understand and provide resources you can use. And they are here to help you not only become a better ministry leader but also a better disciple. Each of our credit students benefits from one-on-one mentoring, ensuring that our students are growing as much spiritually as academically.
Check out our academic programs to the find the best fit for you.

Using the best technology available today, we've taken the online learning experience to a whole new level, giving you the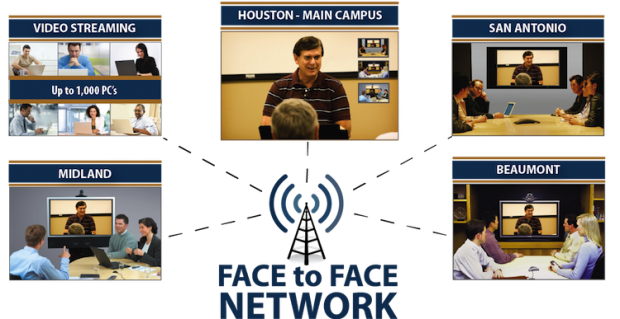 freedom to learn at home or anywhere there is an internet connection. Through the cutting-edge technology of the Face to Face network, you can experience the incredible benefits of a virtual classroom.
Think about it…no more long commutes. No more schedule conflicts. No more moving your family halfway across the country. Sounds good, doesn't it?
Ultimately, you get to the choose your education destination. You can learn from the comfort of your home or your favorite coffee shop. You can stream classes live or view a class lecture later at your convenience.  And if you learn best in a traditional classroom environment, we have numerous locations throughout the United States and the world to better serve you.
Find out more about our locations.

At Grace, we value stewardship, and we work hard to ensure that the investment you make in your education yields the highest return at the lowest possible cost. Due to the generous support of our ministry partners, approximately 90% of each student's education is subsidized by the gifts of God's people. Why do we this? Because we believe each student is an eternal investment with limitless potential to impact the kingdom.
Receiving a quality theological education has been cost-prohibitive for far too long, so we choose to do things differently to ensure that all who are called can also be equipped. We are passionate about partnering with local churches, which enables us to expand our locations without increasing our overhead. We offer degree plans that are 100% online so our students can save valuable time and money by removing the burden of travel. In today's challenging economy, we know most people are cutting back, but with God's help, we'll continue to offer an education that accommodates even the tightest of budgets.
Find out more about our affordable tuition rates.