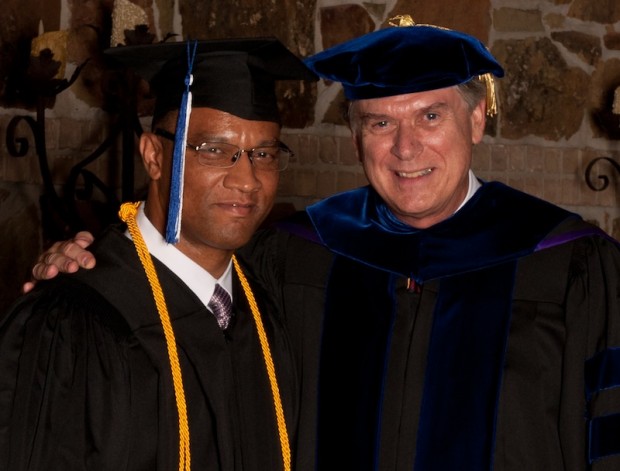 At Grace, we believe strongly in making a lifelong investment in our students. We offer career counseling and services in addition to job and ministry placement assistance for our students and alumni. If you are interested in finding out more about these services, please email our Student Services Department. We also welcome inquiries and job opening information from potential employers. Email our Student Services Department for more information.
GRACE JOB OPENINGS:
Technical Support Specialist (2 Open Positions – Part-Time):
The Technology Support Specialist provides technology support and training for students, faculty and staff. He/she also provides support in the maintenance, and coordination of all information technology (I.T.), education technology (E.T.) systems and services conforming to seminary policies, procedures, goals, initiatives, and budgets.
MINISTRY JOB OPENINGS:
Full Time Associate Pastor: Grace Community Bible Church – Richmond, TX

Grace Community Bible Church is seeking an Associate Pastor with a seminary degree.  Grace is a church of about 325 people and is located about 28 miles southwest of Houston in one of the fastest growing counties in the nation.  Currently, Grace has two Sunday worship services, but is about to begin construction of a new sanctuary that will allow a combined service. Grace highly values biblical teaching and their worship singing is predominantly contemporary. They have a good mix of older and younger families, a thriving AWANA program, and are very missions-minded.
Major responsibilities:
The Associate Pastor will wear many hats. The following are key responsibilities:
1)  Teaching a weekly Sunday morning Bible class
2)  Preaching several times throughout the year
3)  Providing administrative help in various ministry areas as needed.
Information and Application: 
For more information, see our website at www.insidegrace.org .   Any correspondence should be directed to Andrea Sylve at asylve@hotmail.com.  Grace Community Bible Church requests that interested candidates send a resume prior to contacting them.
Compensation
Pay for this position includes a salary with benefits. The total package, to some extent, will be based upon experience.
Youth Intern: Living Hope Church – Oregon City, OR
Living Hope Church of Oregon City is an established Free Grace Bible church that is committed to loving God, loving people and giving life.  We believe that the Bible is God's inerrant word to us.  We are committed to practical discipleship at every level of our ministry. We actively reach out into the community with the gospel and minister to the people of this area.  We have a thriving youth group with eight high school students and seven middle school students.  The youth intern ministry is designed to give individuals first-hand experience in developing a discipleship/outreach ministry.
The youth intern will work with the executive pastor and youth staff in developing and implementing a discipleship strategy that emphasizes spiritual growth and outreach into the community. Youth ministry includes discipleship on Sunday morning and community outreach on Wednesday evenings.  The youth intern will be responsible to implement a dynamic and strategic ministry for both Sunday morning and Wednesday evening. He will also assist in the strategic planning of church wide events such as summer sports camp, youth worship and youth conferences. Click here to download additional information.
Full Time Pastor: Martin Baptist Church – Martin, ND
Martin Baptist Church has been without a full time pastor for nearly three years. During this time, we have seen God's hand at work. Under the leadership of our interim pastor, we have witnessed many individuals begin to use and develop their spiritual gifts within the church. In addition, several young couples with small children have begun attending our services. This has greatly expanded our children's ministry to which we are very excited and grateful for. Our children's ministry includes Sunday School, Children's Church and an annual VBS program. Many of these children also attend one of two AWANA programs in the area and several members of our congregation are involved in these two ministries. We are patiently and prayerfully seeking the man God would have to come alongside of us to Shepherd our rural congregation.
Download this information packet
to learn more about Martin Baptist Church.
Contact Jess Reimche if interested in applying.
701-693-6080
Full Time Pastor: Lacey Chapel – Lacey, WA
Forrest "Bud" Clark, Elder Chairman of Lacey Chapel, is calling a Pastor who will shepherd our congregation in accordance with our Mission: "To exalt God, introduce others to Jesus as Savior, and produce mature followers of Christ." We are seeking a Pastor with a passion for developing mature disciples of Jesus Christ as well as reaching out to the surrounding community with the Gospel. We are seeking a pastor who can build upon the current foundation and gifts God has provided our church and help us to grow in numbers and impact in the local community.
Lacey Chapel is an Independent Bible church of around 50 Christ-centered people who love, value, and respect one another. We are a small and aging congregation that has a desire to rebuild for the future, located on a major arterial road in one of the fastest growing and most unchurched communities in Washington. We own our church building, parsonage and youth building on 5+ acres debt free.
Lacey Chapel believes in a Free Grace gospel, versus a Calvinist or Lordship position. We hold to the historic doctrines of the faith and believe in dispensational theology. We believe the Bible is God's word. It reveals God, His gracious gift of eternal life through the death of His Son, the wonderful blessings that God has given to believers, how to live the Christian life, our future hope in Christ, and many other essential biblical truths. We believe in a literal, grammatical, historical hermeneutic. We believe that diligent study of God's Word enables believers to live holy lives.
In light of these beliefs our desire is to teach the Bible accurately, while encouraging each other in the faith, and to spread the gospel of Jesus Christ to the lost world which surrounds us. Our services center on the exegetical teaching of the Holy Scriptures, and Sunday School classes include verse by verse studies of the Word and other doctrinal issues. A detailed Statement of Beliefs can be found at our website (laceychapel.org). A summary of current Ministries, description of our leadership team, and other information about our church is available at the same website.
Interested candidates should apply be sending a letter of interest and resume to Pastoral Search Committee, Lacey Chapel, 6646 Pacific Ave SE, Lacey, WA 98503 or electronically to FGClark@comcast.net.
Children's Ministry Leader – Impact Church – The Woodlands, TX

Impact Church of The Woodlands is seeking a Children's Ministry Leader. The selected candidate will report to the Executive Director and Christian Education Director. Impact Church wants someone  who exhibits a personal and growing relationship with God, and is capable of creating and executing a long term vision for their Children's Ministry.
Click here for the job description. Contact Impact Church at (281) 363-0220 for further details.
Teaching Shepherd – Elder: Grace Bible Church – Franklin, TN

Grace Bible Church in Franklin, Tennessee is seeking an individual to serve as an additional Christ Fellowship Team Member. This team member position is a comprehensive role that encompasses multiple aspects of church leadership and ministry activity. The church desires to integrate this full-time team member into the church leadership structure where they will grow and serve as an additional Bible teacher.
Grace Bible Church will also utilize this team member to integrate and bring emphasis to their growing youth ministries and their represented families. As such, the selected candidate will work closely with, and be mentored by, the Shepherd Elders and participate in their teaching rotation.
For further information on this exciting and comprehensive ministry leadership opportunity, please contact:
Jerry Smith, Teaching Shepherd Elder,
Phone: 615-943-6889
Email: therev@christfellowship.com
Senior Pastor Position: Shreveport Bible Church – Shreveport, LA

Shreveport Bible Church is looking for a Senior Pastor with the following passions, gifts and experiences:
Shreveport Bible Church is looking for a Senior Pastor with the following passions, gifts and experiences:
Preaches the inspired Word of God, clearly, relevantly, and with enthusiasm. The candidate must demonstrate consistent, creative excellence in presenting God's Word in a manner that allows people to apply it to their everyday lives.
Committed to teaching the Free Grace Message.
Visionary leader with ability to think "outside the box." Responsible, along with the elders, for setting the vision, strategy and direction of the church.
Looking for an outward focused energetic Senior Pastor to help a small congregation of mature believers creatively reach out to their community with the good news of God's grace.
Salary and Benefits: Mid 40's. Help with health insurance.
Full Time Pastor: Grace Bible Church – North Haledon, NJ

Grace Bible Church located in North Haledon, NJ is seeking a full-time pastor.
Please visit their church website at www.gracebiblenj.org.
Primary responsibilities will be to preach the gospel and teach the inerrant Word of God, disciple believers and reach the lost with the Gospel of Christ. Their multi-generational membership is looking for a man who is faithful in prayer, studies God's Word and will lead their congregation into the future; engaging with deacons, church staff and all ministries of the church, especially their youth. A parsonage is available with the position. Applicants should be an ordained pastor who holds a degree from an accredited seminary/university and has a minimum of 5 years pulpit experience.
Minister of Music and Youth: Spring Woods Baptist Church – Houston, TX

Spring Woods Baptist Church is a Multi-Ethnic church in Houston, Texas. We are seeking the person God is calling to fill the Minister of Music/Youth position. Interested individuals, please email resumes and questions to:
Alicia Herrera, Williamson618@gmail.com
Youth Pastor: Semi Valley Evangelical Free Church – Semi Valley, CA

Simi EV Free, a small free grace church in Simi Valley, California, is currently looking to help revitalize itself by launching a youth ministry. We are seeking a candidate or a couple that is up for the challenge of partnering with a new lead pastor to launch a youth ministry.
For more information click here. If you are interested please send an introduction letter to Pastor Mike Cratch at Mike@simievfree.org