American Christian higher education has deep religious roots. In the nation's early development, it was churches and denominations that led in establishing the first seminaries. Grace School of Theology, a direct product of that history, is founded on a free grace tradition based upon Biblical principles and the conviction that individuals have freedom of conscience before God and humankind. This freedom, absent from many traditions, affirms each person's ability to read and understand the Scripture without the mediation of other human beings. This emphasis ultimately led Grace School of Theology to challenge any teaching that does not recognize free grace as the only means to eternal salvation.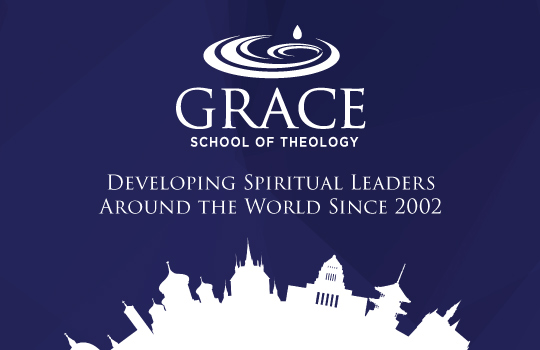 Grace School of Theology is, therefore, founded upon the belief that eternal salvation is received solely as a free gift from God by believing in Jesus Christ as the Son of God and the Savior for mankind. Grace is committed to Christian scholarly endeavor in the free grace tradition.
Grace School of Theology is a private, non-denominational, institution of higher learning governed by a dedicated Board of Trustees. The institution had its beginnings in early 2002 when a pastor and laypersons in the Houston area committed themselves to realizing their vision of a local evangelical Christian insti-tution emphasizing free grace. At the encouragement and advice of Dr. Charles Ryrie, Grace School of Theology began as Houston Theological Seminary as the result of the planning and visionary work of seven men who constituted the initial Board of Trustees:
Dr. Dave Anderson, Dr. Glenn Darby, Mr. Larry Allbritton, Mr. Mark Rae, Mr. Jeffe Ready, Mr. Bill Diamond, and Mr. Bob Winslow. Of the original seven Trustees, Dr. Dave Anderson now serves as the President of Grace and a member of the Board and Dr. Glenn Darby is Chairman of the current Board of Trustees.
Grace School of Theology is a work of God's grace. God placed the burden for this educational ministry upon the heart of Dr. Dave Anderson who, for twelve (12) years planted churches in southern Texas and then, for eighteen (18) years, served as Senior Pastor of Faith Bible Church of The Woodlands, Texas. The discussions between Drs. Anderson and Darby with the full Board of Trustees led to the beginning of Houston Theological Seminary. The first seminary classes were held in Faith Bible Church of The Woodlands, Texas, and Cypress Bible Church of Cypress, Texas.
Houston Theological Seminary received its certificate of incorporation from the State of Texas effective May 29, 2001. The first students began classes in the fall of 2002. After Texas enacted a state law prohibiting the use of the term "seminary" in an institution's title without state approval, the name Houston Theological Seminary was changed to Grace School of Theology in a Certificate of Amend-ment issued by the State of Texas in March 2003. The Texas Supreme Court overruled this unconstitutional law in the fall of 2007, but the seminary elected to retain its current name.
Grace is strategically located in the Houston, Texas, metropolitan area. The main administrative offices are located in The Woodlands, Texas, and include classrooms, faculty offices, and the main Library.
As Grace has begun to significantly grow, teaching sites have been developed in areas near Houston (Beaumont) and as far away as Midland and San Antonio where much support and encouragement from Christian leaders has developed. International initiatives have become priority directives by the institution's Board of Trustees. Many world-region opportunities have emerged, which are each evaluated by administrators and faculty. Current international teaching sites include Honduras, Mexico, Panama, and the Philippines.